Last Updated On: May 28, 2020
I'm excited to announce our third annual State of the Merchant Report for 2019!
If you've never read it before, it's a sweeping report of all things eCommerce, geared toward the seven-figure merchant. It covers a dizzying number of details including growth rates, software adoption, conversion rates, profitability stats and even what indulgences store owners most desire.
And if that's not exciting enough for you, I'll be giving away a round-trip international trip at the end. So make sure to stick around!
Let's jump into the data.
Our Intrepid Store Owners
We had more than 400 qualifying merchants complete the questionnaire this year, with average revenues of $2.9 million per store, up from $2.3 million last year. Overall, the report represents well over $1 billion in total respondent revenue.
To help reduce noise from extremely young companies, I only included those with revenues of at least $30K in the calculations.
Much of the demographic information remained unchanged from last year. But one change stood out starkly: the shift in business models.
The number of drop shipping businesses dropped by a staggering 51%, while the number of manufacturing businesses increased by a third. That's a huge shift.
I'd speculate that it speaks to the increased difficulties of the drop shipping model and the greater rewards of having a unique, defensible product and brand in today's Amazon-dominated market.
Revenue Keeps Growing Strong
Revenue growth remained extremely strong at 35.9% and largely unchanged from 2018's rate of 36.8%. This isn't too surprising given the sophistication of many eCommerceFuel sellers (who make up the majority of respondents) and the strong economy.
What did surprise me was growth rates among drop shippers and Amazon sellers.
As mentioned above, the number of drop shipping businesses was cut in half this last year. So I was a little shocked to see growth rates for the segment leading the pack. Drop shipping revenue and income both grew at more than 44% this year.
I'd guess part of this can be explained by size.  The average drop shipping business did $1.5 million in revenue, only half the size of the $2.9 million average business surveyed.  Smaller size makes incremental growth easier.  But $1.5 million isn't exactly tiny and growth at that level – especially with headwinds to fight – is still surprising.
Perhaps Darwin hold some additional clues? One possible explanation could be that as the model gets more competitive and weaker stores perish, the healthy ones that do survive push those averages up.
Even more shocking was the realization that — for the first time ever in our survey— non-Amazon sellers grew faster than Amazon sellers on average. Whether attributable to the increasing competition on Amazon or to something different, I think it's the most telling data point from this year's report.
Margins and Order Value – Both Up
Average margins across the board improved significantly this year to 45%, up from 39.2% last year. On one hand this shouldn't be surprising when we consider the increased number of high-margin manufacturers and lower number of low-margin drop shippers.
But it wasn't just the shifting business model mix that pushed up those figures. Margins increased across the board, with margins higher in the majority of business models this year compared to last.
Manufacturing gross margins were 53%, up from 49% in 2018. Hybrid sellers saw a similar jump from 40% to 45% this year.
It's great news: Merchants are making more money on what we sell!
Say Goodbye to All That Free Traffic?
One of our favorite collective pastimes is to complain about how the evil trio of Facebook, Amazon and Google are conspiring to monetize all traffic and choke our ability to reach our customers organically.
It's a great narrative and one that's easy to repeat. And it's not entirely false. But the data above show that it might be happening at a slower rate than the doomsayers suggest.
The evil trifecta of Amazon, Google and Facebook is coming to steal your free, organic traffic … but thankfully not as fast as you thought.
The #1 source of traffic for almost half of all respondent stores is still organic traffic. Even in 2019, when an organic above-the-fold listing is a relic of a bygone era, and your organic Facebook reach has dropped to single digits. This is surprising, even shocking—yet encouraging.
But the doomsayers aren't completely wrong; traffic is indeed flowing from organic sources to paid ones.
Last year 51.1% of store owners said that organic traffic was their #1 source of visitors. This year that dropped to 48.2%, as paid traffic slowly eats into organic reach. In 2019, 31.5% of merchants reported paid traffic was their #1 driver of traffic, up from 30.3% last year.
The evil trifecta is still coming to steal your free, organic traffic. Just thankfully not quite as fast as you might have thought.
Speaking of paid traffic …
Everyone's Killing It With Facebook … Right?
New for the 2019 report is a breakdown of paid marketing channels and ROAS metrics.
Unsurprisingly, ad costs have gone up this year, with merchants reporting an increase of 15% from last year. This was nearly identical to the 2017-2018 increase in CPAs of 14.3%. If ad prices are going to go up, at least it seems they're going up consistently.
Where it gets interesting is when you look at increasing ad costs by platform. Facebook ad costs increased at almost double the rate of Google ads, up 19% year-over-year.
For the 2019 report, we also looked at popular and effective marketing channels. Respondents shared the marketing tactics they were spending time on (popularity) and then which of those provided the best ROI (effectiveness).
A measly 15% of people advertising on Facebook said it provided their best marketing ROI.
The popularity chart won't surprise you. Email Marketing (71%), Facebook (58%), AdWords (58%) and SEO (55%) top the list of popular tactics.
Here's the twist: Amazon Ads—nowhere near the top of the cool marketing kids' club—was ranked as the most effective tactic. Half of people using it said it was the highest ROI marketing activity they engaged in.
Bad news here, Zuck. A measly 15% of people advertising on Facebook said it provided their best marketing ROI.
If you've had Facebook envy and struggled to get your campaigns profitable while second graders seemingly build eight-figure businesses off of Facebook ads, don't distress. There are loads of people chasing after the dream of "easy Facebook money" who aren't seeing the results they want. You are not alone.
Our #1 KPI (Kardashian Performance Indicator)
Let's take a break from all these serious metrics to explore a few shallow, luxury fixations.
Every year I like to sneak in a slightly odd question to keep things interesting and spice up what otherwise becomes a dizzying array of numbers and stats.
We've learned critically important things about the eCommerce community, like Elon Musk is our favorite billionaire (and Bezos our least). And that store owners would rather be attacked by a swarm of angry bees than by a bear. (Y'all are crazy. I'll take the bear.)  
Personally, it's insights like these that I feel are the true nuggets of wisdom we get from the study each year. That's why I'm so excited to share this year's pressing question: What luxury gift would you pick for life?
In all honestly, I think I botched this one. With nearly two-thirds of people picking the $300,000 annual income I made the decision too easy. I would have loved to see how things turned out with a $125,000 sticker price instead.
(For the record I personally picked the monthly lunch date with anyone. It's the only thing on the list that money can't buy, and getting to chat with the most interesting people in the world regularly would be incredible. So Scott Galloway, if you're reading this, please call me and we'll set something up.)
Thank You, Politicians and Judges!

The last year was pretty brutal from a macro and regulatory standpoint. The U.S. Supreme court sucker-punched eCommerce merchants while Trump did his best to make importing more expensive and difficult for U.S brands.
Over a third of sellers said tariffs had a real and negative impact on their businesses this year. And only a quarter of impacted merchants are collecting sales tax in states where they have FBA inventory, which some claim creates nexus and therefore the duty to collect sales tax.
eCommerce sellers are not a bunch that intentionally tries to skirt the law. The lengths that many of our members go to in order to do things by the book always impresses me.
But the sales tax situation in the United States right now is an unmitigated disaster. Sadly I know entrepreneurs who are getting out of eCommerce because they don't want to deal with the nightmare of sales tax compliance. It's that bad.
The eCommerce tax situation in the United States is an unmitigated disaster
From anecdotal discussion, it seems merchants' decisions regarding sales tax come down to two things: risk mitigation and the burden of compliance.
You can use software that makes filing in dozens of states easier than doing this manually. But it's still time-consuming and burdensome, especially for smaller merchants.
In addition to logistical headaches, many sellers fear that if they DO file where they *should* be filing, they'll be targeted and fined for past taxes they didn't collect properly. Even if initial filings go well, what merchant in their right mind wants to be subject to the bureaucracy of dozens of different states and municipalities?
Imagine being audited by seven different agencies in one year alone. It's not unrealistic.
We desperately need action at the federal level to consolidate and streamline sales tax for the online world. Until then merchants will operate in gray areas, states will lose out on revenue and we'll waste money trying to enforce a horrifically inefficient means of collection.
(Big thanks to the team at the Online Merchants Guild, who is advocating for sales tax reform. You should support them if this cause is important to you and impacts your business.)
Surprising Amazon Trends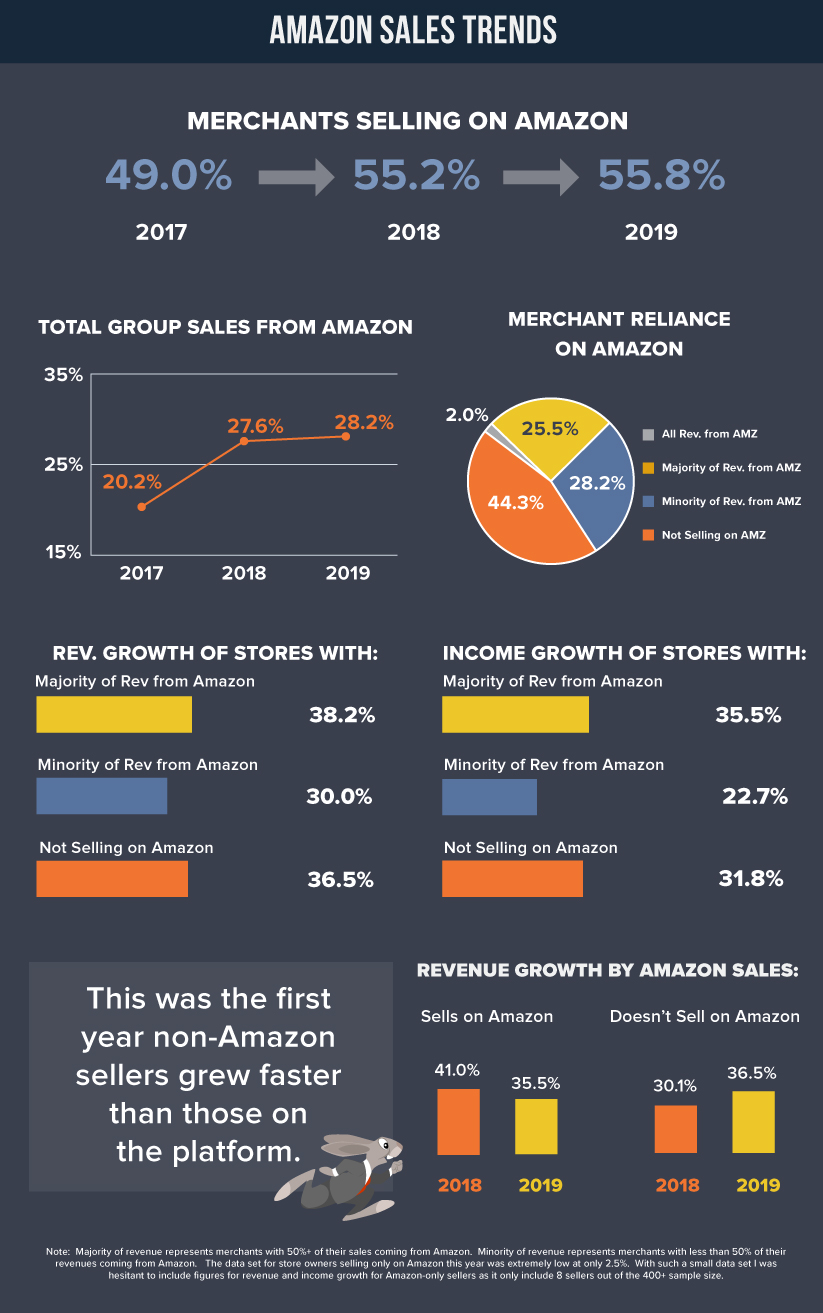 The most notable trend to emerge from this year's report is what I'll call "Peak Amazon." While Amazon continues to grow, the number of seven-figure merchants who are embracing the platform has plateaued.
Merchants selling on Amazon barely inched forward this year, moving from 55.2% to 55.8% of all respondents in 2019. The percent of sales coming from Amazon was also stagnant, barely moving from 27.6% in 2018 to 28.2% this year.
This is after big jumps in both metrics from 2017 to 2018. This flattening trend is extremely obvious looking at the charts above.
Perhaps the most surprising stat, as mentioned earlier, is that for the first time ever, stores not selling on Amazon actually grew faster as a group than those selling on the platform.
Anecdotally I've heard a major shift in discussion surrounding Amazon over the last 12-18 months. Amazon seems to be getting more cutthroat, while domestic and foreign sellers—as well as Amazon itself with its own product lines—are crowding the marketplace.
I predict we see the percent of stores selling on Amazon decrease for the first time ever in 2020.
The past ease of profitability and growth made giving up ownership of customers and accepting more channel risk with Amazon an easier decision. But as competition, fees and counterfeit problems have increased, the tradeoff seems to be less attractive to many.
Some store owners are choosing to abandon Amazon altogether.
What is driving Amazon's growth if it's not being fueled by smaller U.S. merchants? I spent some time poking around Amazon's SEC filings to try to uncover an answer but was unsuccessful. I'd speculate it's a combination of foreign manufacturers selling direct, Amazon's expansion into international markets and the growth of their own line of in-house brands.
Amazon isn't going anywhere. It's the major force in eCommerce and is an enormous—and often highly effective—channel for sellers. But we're seeing some hard-to-ignore trends that I think are extremely telling.
My prediction for 2020 is that we see the percentage of store owners selling on Amazon decrease for the first time ever.
The Incredible, Ever-Growing Conversion Rate
Last year I wrote how surprised I was to see the overall conversion rate jump from 2.10% to 2.62%. It was a substantial increase and, apart from strong economic conditions and a maturing eCommerce market, I didn't have a good explanation as to why.
So when I saw that conversion jumped again from 2.62% to 3.02% year-over-year, I was not looking forward to once again showcasing my ignorance. The conversion bump was visible across all types of business models except for resellers. It wasn't an isolated case of strong conversion rates in one area skewing the average.
I don't know what is behind the ever-increasing conversion over the last few years, but it's obviously good news for merchants.
Shopify Plus, Klaviyo Move Up … and Who Is Gorgias?!?
Disclaimer: Numerous companies below have sponsored—or are currently sponsoring—eCommerceFuel-related content or events. These include Shopify, Klaviyo, Yotpo, Gorgias and Fulfil.io.
The data above is compiled from our Community's proprietary software directory. We've built special software that scans our members' stores to detect what software they're using. We then we ask our members to review their software stack.
The result is real-time data on what software store owners are actually using—and what they like. The star illustrations represent the average review rating by our members, while the ranking position (#1, #2, etc.) represents software adoption and use as of April 2019.
(Interested in getting access to our full directory with thousands of unbiased reviews? Apply to join our Community here.)
Shopify is squarely cemented as the 500-pound gorilla of SMB eCommerce software. Approximately half the members of our Private Community use either Shopify or Shopify Plus. Their rise to dominance has been impressive to watch and leaves many of us (myself included) who failed to buy their stock at the IPO price of $20 (now $200+) feeling like idiots.
Klaviyo overtook Mailchimp to earn the #1 spot for email marketing software. Mailchimp's recent spat with Shopify likely won't be helpful in regaining ground and I'd be surprised to see anyone challenge Klaviyo for the top spot next year.
The help desk category saw the most movement this year with Help Scout finally knocking off legacy provider Zendesk for the number one position. Gorgias seemed to come out of nowhere with their Shopify-specific help desk emphasizing automation. I hadn't heard of them a year ago, and now they're #3 on the list of most popular desks.
New this year are rankings for chat and ERP software. I was a little hesitant to include the latter, as we have less data for it in our directory, but I wanted to give a sense of which ERP solutions are most popular, used and discussed.
Struggles and Future Plans
I think it's safe to say that eCommerce didn't get any easier over the past year. Merchants reported struggling with things like sales tax, Chinese sellers and new products, along with the more familiar obstacle of time management.
What You Should Do Now
That's a wrap for this year's report! If you've enjoyed it, please consider doing one of the following:
Join Our Community for Experienced Sellers — If you're an experienced store owner, you should apply to join our Community for 7-figure-plus store owners. It's the only community of its kind in the world where merchants can get help, share what's working and enjoy camaraderie with others who get them. Learn more about it here.  
Get eCommerce Goodness Delivered Regularly — In addition to content like this, we put out a biweekly newsletter covering what's happening in the eCommerce world. It's punchy, to the point and full of interesting reads.  If you liked this report, you'll love our bi-weekly digests.  You can sign up for it right here.
Listen to the eCommerceFuel Podcast — We've been having fun producing an eCommerce-focused, irreverent podcasting for 6+ years and have built what Shopify calls one of the top eCommerce podcasts around.   You can listen and also get a sense of what kind of episodes to expect here.  Find it wherever you download/listen to podcasts.
And the International Trip Goes to …
Finally I need to award the traditional State of the Merchant prize. The survey for this study is no joke: At nearly 50 questions, it takes a dedicated entrepreneur to stick with it. To say thank you to all those who participate, I give away a round-trip plane ticket anywhere in the world – up to $1,500 in value –  to one respondent chosen at random.
A big congratulations to Nathan Murray from RivalsGroup.com for winning this year's prize! Excited to see where you go Nathan, and thanks so much for being a part of the survey.
Using This Data/Imagery (License Terms)
I'm making the data and all graphical elements available under an attribution, non-commercial license. As long as you reference and link back to eCommerceFuel, please feel free to use this data and any charts in your work, blog posts, etc.
The Full Data Set
If you crave more eCommerce geekery, you can download the full data set below.
Dive in and explain why conversion rates continue to rise, spot a mistake in my analysis/calculations or just find strange correlations you can share with annoying dinner guests. The possibilities are endless.
You can download the full data set from the past three years below:
The Full Infographic
Feel free to use/share as long as you attribute and link back to this post in your work.
Ma